Park Avenue Physical Therapy has been serving the community for over 20 years. Owned and operated by Dr. William VanVynck, Park Avenue Physical Therapy is an outpatient clinic that prides itself on personal care. Our goal is to provide each patient with personal one on one care making sure our patients get back to what they love to do, whether that is athletics or being pain-free in their daily activities.
At Park Avenue Physical Therapy, our staff of licensed physical therapists and athletic trainers are educated and experienced with the newest therapeutic techniques to help patients reach their goals and return to what they enjoy doing most.
With years of medical knowledge and clinical experience, our physical therapists have an exercised based approach to helping our patients recover from any injury or ailment. We create comprehensive, individualized rehabilitation programs for each patient at our facility. Our treating physical therapists continue their education so they may provide the latest techniques to our patients with the best treatment possible.
Dr. William J. VanVynck, Owner/Physical Therapist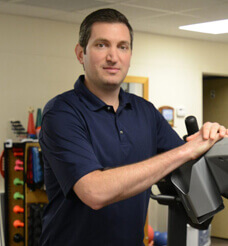 Dr. William VanVynck has been practicing as a physical therapist and athletic trainer on Long Island for the over 13 years. After obtaining an athletic training degree from Sacred Heart University in 2003, he pursued his desire to become a physical therapist and continued his education at Sacred Heart, receiving in Master's Degree in 2006. Recognizing the importance of higher education and professional recognition, William furthered his education, and obtained his Doctorate of Physical Therapy from the College of Saint Scholastica. William has dedicated his career to focusing on sports injury and orthopedic rehabilitation, having experience working with patients of all levels. He was the the Associate Team Physical Therapist for Farmingdale State College and LIU Post from 2014-2016 and served as the head athletic trainer for the Plainedge School District for over ten years.
Recent Blog Posts From Our Doctors of Massage Therapy in Northport
How Can Massage Therapy Help My Chronic Pain?
Chronic pain is a complex condition that affects almost 50 million people worldwide. In some cases, individuals can trace their pain back to a specific injury, however, sometimes chronic pain can come out of nowhere with no exact cause or explanation. Pain is considered to be chronic if the pain has persisted for several months or longer with no sign of it decreasing in the near future. While treating your chronic pain is important, treatment methods may not resolve your pain completely. There are many methods being tested and explored to help individuals manage their chronic pain, helping them live a healthier, happier, and more comfortable life. Park Ave Physical Therapy is now offering Massage Therapy in Northport to help reduce your chronic pain today!
Conditions Related to Chronic Pain
In some cases, chronic pain has been seen to be related to some common conditions individuals may possess. Although your chronic pain might be related to these conditions, doctors will most likely treat your pain as a separate condition of its own to help the individual live more comfortably. Some conditions that have been found to be related to chronic pain are but are not limited to: 
Lower back pain 

Arthritis 

Headaches/Migraines 

Multiple sclerosis

Fibromyalgia 

Shingles 

Neuropathy or nerve damage 
How Massage Therapy in Northport Can Help!
Massage therapy has been proven to be quite beneficial when offered alongside standard medical treatments. However, massage therapy is not meant to be a replacement for regular medical care. Some benefits of massage therapy in addition to decreasing chronic pain overtime include:
Reducing stress 

Pain management 

Anxiety 

Depression 

Insomnia 

Digestive Disorders

Joint  pain 

And more 
Additionally, massage or soft tissue therapy decreases tightness in your muscles providing you with pain-free movement every time! This form of treatment helps individuals manage their pain when moving, as well as increasing their range of motion. Massage therapy has also been proven to help decrease inflammation in the body and even increase blood circulation too.
Massage Therapy in Northport at Park Ave PT
Experiencing chronic pain on a daily basis and looking for a new technique to manage your pain? Come try out Massage Therapy in Northport, here at Park Ave PT. Our trained physical therapists will work with you and your individual needs to ensure that you receive the best care possible. To learn more about massage therapy, visit our website, or request a free evaluation today!